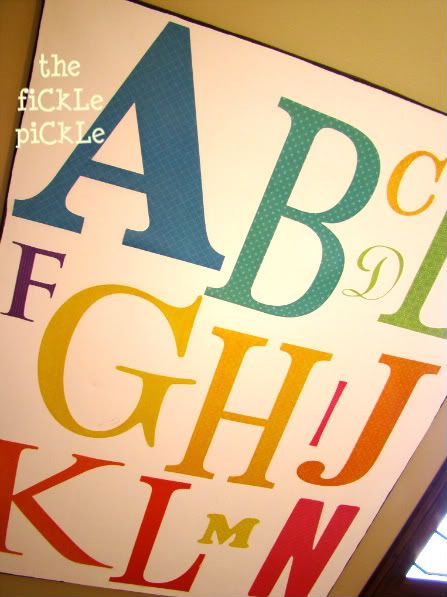 Wow. Is it just me or is this year already fLyiNG by!?! I have meant to post sooner but have found myself otherwise occupied with organizing and cleaning out and starting fresh...getting into the New Year spirit. I'm ready to start this one on the right foot. So, because I've been busy and haven't quite gotten through all the birthday pictures, I thought I would answer a question I got the other day about some art in my kids playroom. I was asked where I found these ABC canvases...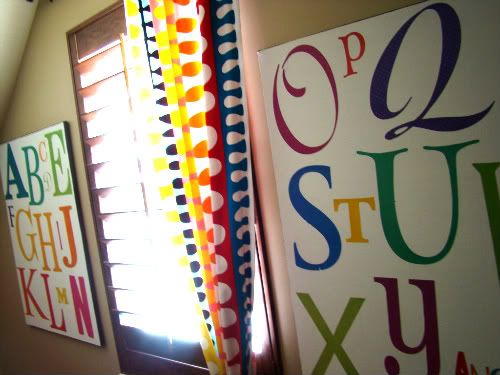 Truth is, I made them. And let me tell you...they're a super easy little craft and not too expensive (especially when you recycle your canvases, I had something else painted on them orginally). All I did was find some large canvases that would fit in the space I was planning on hanging them in. Next I gave each canvas a fresh coat of white paint then painted the edges of the canvas dark brown.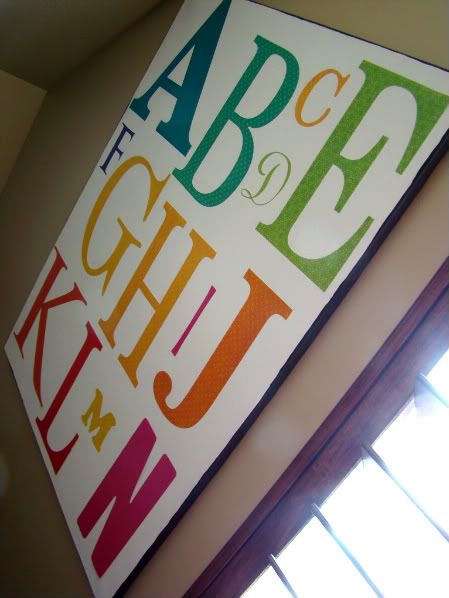 I found the letters in a srapbook paper pack with alphabet puch-out sheets in it (Walmart or Target or something), all I had to do is punch them out and stick them on using a little Mod Podge. See I told you, EaSy! When they were done I hung them in the playroom to add a bit of color to the walls...and it was just a bonus that they also provided a bit of educational purpose :)

And while we're on the subject, I thought I would also share something else I made to hang in the kids playroom, again on canvas. To cover these I used fabric, felt and scrapbook paper.

First I attached the fabric to the back of the canvas with a nail gun. Then made my owl shapes using different patterned scrapbook paper. Once they were all cut out I backed them with felt and sewed around the edges using different stitches.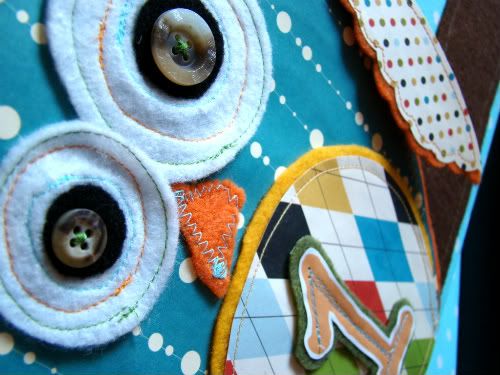 Then I attatched them to the fabric covered canvas...and honestly, it's been long enough ago that I don't exactly remember how I did that??? But I'm guessing I used some kind of fabric glue...sorry, I'm doing good to remember yesterday anymore. And there you have it...OwL aRt. I had a major thing for owls last year.

These have just been propped up on the shelves...

They're still waiting to be hung...but that's going to have to wait 'til after the walls are painted. More on that to come...